Please welcome four more amazing quilters to the 2012-2013 Dallas Modern Quilt Guild officer team!
Laurie Thompson, Community Service
I taught myself to quilt about 13 years ago by watching Alex Anderson on Simply Quilts, long before blogs, YouTube, and online tutorials. My main objective was to hand quilt the tops I have that were pieced by my grandmother. I've been sewing since I was about 8 and have tried just about every needlecraft there is, so I was surprised that this new/old fabric art form captured my heart and my imagination the way it did. Since I work full-time as a librarian, I'm not very prolific, and I give most of my quilts away. However, the pleasure of seeing (or imagining) the joy on the face of a quilt recipient makes it all worth it. I can hardly wait to begin distributing the donation quilts that the guild has started making. Oh yeah, those quilt tops of my grandmother's? They still need to be quilted.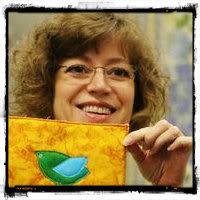 Cheryl Isbell, Auditing
I've been doing crafts of some nature all of my life – well, at least as long as I can remember! My Mom taught me how to sew, crochet, knit, embroider, etc. She was always working on something. I didn't start quilting until 2001 when a friend of mine opened a Quilt Shop in Flower Mound, even at that it took her a couple of years to get me going on it. Once I did I never stopped – and boy do I love it! My first quilt was a queen size blooming nine-patch that I pieced in 3 weeks – I was obsessed and fearless. I love, love, love quilting and I don't spend any time on other crafts anymore. I may not be as prolific as some, but I need this creative outlet in my life. Quilting brings me joy and happiness and I love to share that with others. I love to try new things and I've learned that there are often many ways to do something when it comes to quilting – just pick the way you like the best and you'll never go wrong.
Happy Quilting!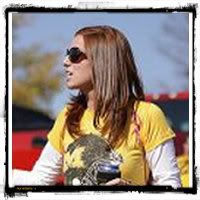 Rachel Bryan, Activities/ Exchanges
Hi! I have been sewing/quilting (touching fabric/needles/thread period) since January 2011 when I decided a needed a hobby. Little did I know it would quickly become and addiction and a lifestyle. Since then I have met some of the most amazing women, made great memories and found a creative side that I never knew I had! I enjoy all styles of quilting – from traditional to modern and everything between. Most specifically, I am a sucker for applique!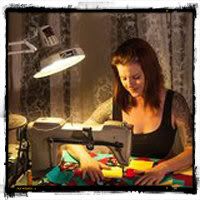 Shannon Page, Activities/ Exchanges
I enjoy all manners of crafting and sewing including quilting, clothes making, spray painting and gluing anything. My great grandmothers made quilts and my mother sewed clothes. I started sewing when I was 13 making clothes and small items to subside the boredom and restlessness of growing up in a small suburban town. After my mom died I reached out for a new hobby to get through all that came with this sad event. In cleaning out my mom's house I came across one of my grandmother's quilts and I was touched by how this quilt had stood through time. There it was in my hands decades after having been made with all its hand stitching and hard work. I looked up a quilting pattern online and made my first quilt... a cracker quilt that I cut out with regular shears, bound with premade binding and quilted on a regular machine. With all those mistakes it was the most rewarding item to come off my sewing machine.
I searched for a quilting group and was hoping to find somewhere to meet like-minded people and get a few pointers. After my first meeting with the DMQG I was so inspired and met so many friendly, smart and creative ladies I have not missed a meeting yet. What a great thing it is indeed to spend time doing what you love and sharing your work with a genuinely interested crowd.